On Becoming a Designer…
Becoming a designer was not a linear path for me; it was more of a calling from within. I was born in Sri Lanka and adopted by a family in Sweden at the age of two months, giving me a unique blend of Eastern and Western cultures. While it may sound cliché, but this mixture has undoubtedly shaped my identity and influenced my creative journey.
I grew up in Malmö, a city in southern Sweden known for its industrial background. Fashion was not a prevalent presence in my surroundings, but it always captivated me. It wasn't until later that I discovered my biological mother had been a designer for Saree's in Sri Lanka. In a way, her creative gift was passed down to me, even though I never had the opportunity to meet her after my adoption. Her influence is evident in everything I design.
Unlike the mainstream focus on branding and commercialism in the fashion industry, I have always been drawn to the art of illustration and the craftsmanship of design itself. I am still an introverted artist who finds solace in working alone, allowing my art to speak for itself. However, life has a way of pulling us in different directions, and I have learned to adapt.
My design career began at the age of seventeen, following a life-altering experience. At sixteen, I became paralyzed on the left side of my body and was diagnosed with Multiple Sclerosis (MS). This served as a wake-up call, reminding me not to take life or time for granted. With this newfound perspective, I transitioned from studying science to pursuing fashion, a decision I have never regretted.
In my early twenties, I had the privilege of working in various countries such as Italy, the UK, Greece, and Cyprus, gaining valuable experience in the industry. While I struggled with my own identity and place in the world, my upbringing instilled in me a set of values centred around human connection and empathy.
However, working in the fashion industry often required compromising my true self and my core values. I had to conceal my MS, knowing that revealing it would hinder my chances of employment. This constant struggle ultimately led me to question my role in an industry that often disregards human lives, embraces environmental irresponsibility, and perpetuates harmful working conditions. I could no longer be a part of this machine.
After starting a family and having two sons with ASD spectrum diagnoses, I realized the harsh reality of the world they would inherit. Fuelled by a desire to create a better future for them, I dedicated myself to making a positive impact and standing up for what I believe in. This commitment led to the inception of starting my own company.
I returned to university to study Linguistics and Literature, and while building a home for my family, I rediscovered my passion for design and the creative process. However, I had no desire to return to the industry that forced me to compromise my values. Instead, I sought to create a new space, a sub-world within my own company, where creativity and inclusivity could thrive. Breaking free from the constraints of traditional norms, I aimed to share this world with like-minded individuals who shared my vision. I understand that not everyone is ready for such a change, but I am tired of raising my children in a world that grows colder each day. My company today provides a haven where representation matters, offering a new path for talented individuals to express themselves freely.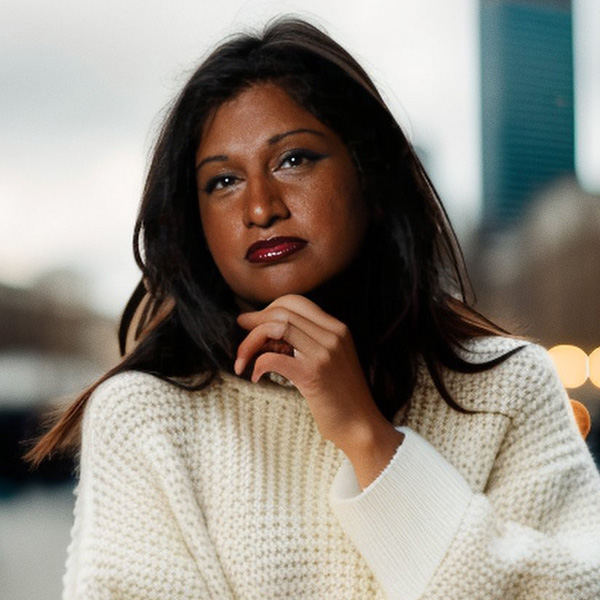 On health setbacks…
The initial concept of my Design Business has been years in the making, beginning in 2011 after the birth of my first son. However, the first few years of motherhood proved challenging, leaving little room for personal pursuits. As my MS and overall health deteriorated, I struggled with mobility and constant fatigue. Being a special-needs mom added an extra layer of stress and strain, exacerbating my condition.
Eventually, I found myself wheelchair-bound, unable to perform basic tasks such as dressing myself or maintaining personal hygiene. Although I desperately needed assistance, government support was denied. It was a dark period of my life, and some days I could barely crawl out of bed to care for my children. Lost within the healthcare system, I feared losing my children and prepared myself for the worst.
Determined to change the situation and show my children that I had done everything in my power to try to change the situation for the better, I embarked on a journey in 2017. After years of unsuccessful attempts to qualify for HSCT (Hematopoietic Stem Cell Transplantation) treatment in Sweden, I made the decision to undergo the procedure abroad.
Despite discouragement from Swedish neurologists and facing biased comments about treatments abroad, I followed my intuition and found a HSCT treatment in Mexico. In October 2017, I left my country, uncertain if I would ever return. I believed it was better to fight for survival on the other side of the world than to fade away before my children's eyes. However, upon arriving in Mexico, my perspective shifted. I realized that when my time comes, I want my loved ones by my side. Fortunately, my journey did not end in Mexico.
After a month of intense chemotherapy and a stem cell injection derived from my own blood, I emerged from the experience reborn. The first thing I did was embrace my children, vowing never to leave them again. Since then, I have remained by their side, fortunate to experience a fully functional life with minimal MS symptoms compared to before.
While HSCT treatment is intended to halt the progression of MS, my case witnessed an unexpected reversal. Prior to treatment, I had been classified as Secondary Progressive MS with an EDSS scale rating of 5.5. After six months, my rating dropped to 3, and after a year, it further decreased to 0. Presently, I have been fortunate to maintain an EDSS 0, experiencing minimal MS symptoms.
Although the treatment did not eradicate the lesions in my brain, they have remained inactive. The treatment's impact on my improvement remains somewhat of a mystery, as an MRI revealed the possibility of a stroke lesion coinciding with my MS flare-up. This potential misdiagnosis was under legal review in Sweden, but closed due to lack of scientific empirical conclusions. Since the lesion was confirmed as a PVL (Periventricular Lesion), it is uncertain whether the treatment saved me from MS or a stroke itself. Regardless, I consider myself fortunate.
It is essential to note that my experience with HSCT is not universal. For some, the treatment results in sepsis or premature termination due to the body's frailty. I acknowledge the privilege of having the financial means to pursue this treatment, and wish the same opportunity to chose for all individuals living with MS. It is a debilitating illness that strips away one's entire being.
On recovering…
During my time in the chemotherapy room during the HSCT treatment, I faced solitude and weakness. However, I discovered that creativity had always been by my side, providing solace and strength. Even in the midst of darkness, I began designing and planning a fashion show. I made a pact with myself that if I survived, I would bring this vision to life. This creative outlet kept me focused and eased my constant nausea.
In the following year, with the help of physiotherapy and a supportive physical therapist, I achieved remarkable progress. My physical therapist had never witnessed such a recovery before. Together, we set a goal for me to return to playing handball within one year, even if only for two minutes. Handball had been an important part of my teenage years until MS took hold, and I was determined to reclaim that part of my identity. I wanted to prove to myself and my illness that I still had more to give.
True to my promise, after one year, I rejoined a senior handball team and was accompanied by two teammates from my old team during the teenage years. After a twenty-year hiatus, I played my first game again. It was a triumphant moment, a personal victory over MS.
Post HSCT life…
Now, at the beginning of a new chapter in my life, I am excited to share the start of my entrepreneurial journey from a personal perspective to you all. I wanted to share my story and the person as well as the inspiration behind my designs. This journey is not solely about my own personal success; it is about creating opportunities for others, regardless of age, gender, race, disability, or having children with disabilities. My company aims to foster inclusivity and provide a space for creative talent that might otherwise remain untapped.
More than anything, my journey represents a triumph over darkness and a rebirth into the light. I am not afraid of failure; instead, I am grateful for the chance to pursue my passion once again. The joy I derive from this endeavour far outweighs any fear.
I believe that representation matters, and my company is here to offer a new path and a safe haven for self-expression. When I share my creative ideas with the world, they will be infused with my values, labelled and DNA-marinated, as a testament to my commitment.
If anything, I have emerged from darkness and adversity, and found my way into the light. I have become stronger, both personally and professionally. The mere endeavor to establish my company, will serve as a lasting legacy for my children. They will come to understand that I stood up for something meaningful, that I faced challenges without fear, and that my love for them knows no bounds.